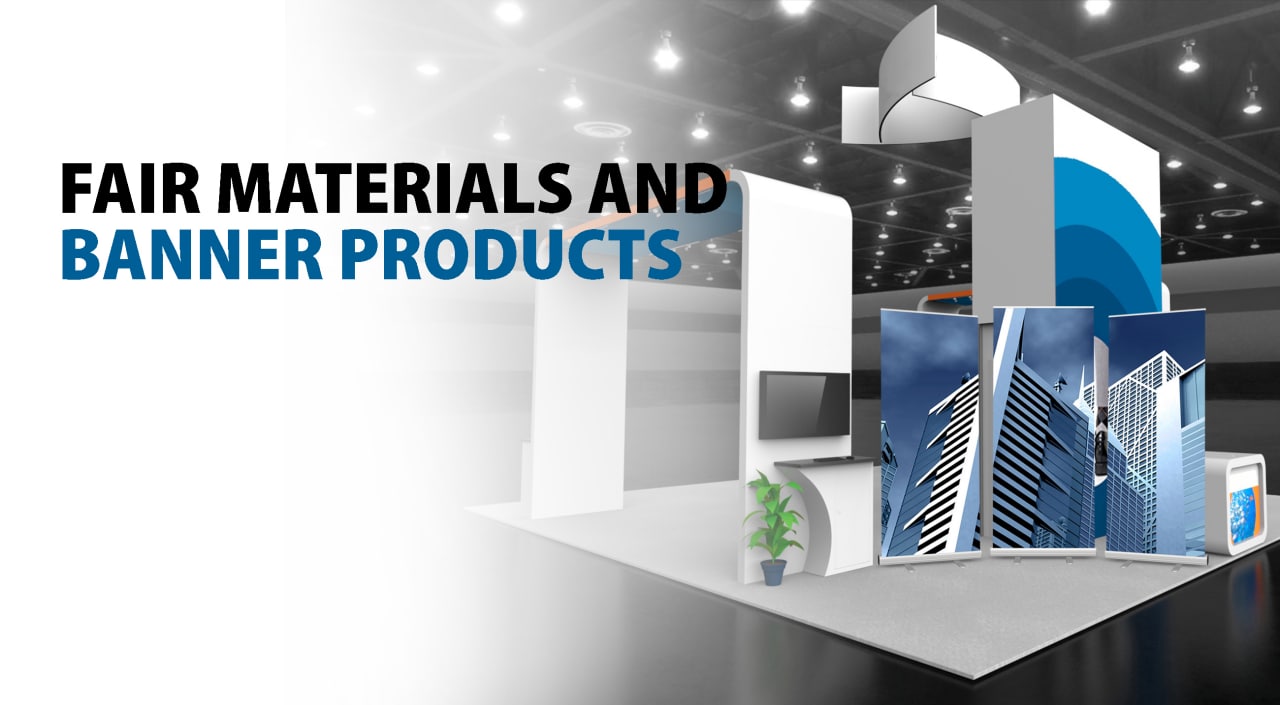 FAIR MATERIALS and BANNER PRODUCTS
FAIR MATERIALS and BANNER PRODUCTS
Fairs; These are events where companies that produce goods or services present their products to visitors, where buyers and sellers meet and have one-on-one contact. It is also defined as "large exhibitions opened at certain times, in certain places, with the aim of displaying commercial goods". In terms of marketing, it is one of the most important communication tools in the communication mix and face-to-face relationship is established. The origin of the word fair is derived from the German word "messe" and the Latin word "missa" and means "mass".
When we look at the point we have reached today, businesses have started to prefer alternatives where effective communication can be established rather than classical advertising or promotion methods. It can be said that promotions, product shows and fair organizations are constantly increasing their importance in promotional activities. Because fairs not only serve the purpose of selling products and making profit, but also undertake a great market mission such as ensuring that the people have fun in certain places and for certain periods of time. In this way, companies have an advantage in opening up to new markets, acquiring new or permanent customers and developing business relations.
The fair systems to be used for stands and decorations are as important as participating in the fairs we have mentioned. Whether it is small-scale or worldwide fairs such as Regional Fairs, National Fairs, Solo Fairs or Expo organizations, it is necessary to pay attention to banner products, cloth banners, table flags and promotional products that will be used to attract attention.
As Seçil Bayrak company, we offer you many alternatives at the point of exhibition systems and we are producing. Some of these products are:
Panset tables: Panset tables, which have a light and portable structure, allow long-term use thanks to their aluminum profiles. All panels have a structure that can be opened easily. There are convex, hexagonal, oval and angular product types.
Spider Pop-Up Stand: Spider stand; at fairs, exhibitions, seminars, etc. It is one of the ideal products that you can use to display your message and advertisement in media. Spider stand/table and flat spider stand types are produced according to dimensions.
Promoststand: This product, which is ideal for frequent use, is more affordable than other models. It has a stylish design that you can easily use in your product promotions.
Poster Block: It creates an effective presentation area in schools, seminars, restaurant chains and shopping mall openings and fairgrounds. It can be used with different materials.
Quick Banner: It serves as a flexible and mobile poster holder. Thanks to this set that you can carry anywhere in its bag, it is a product of ours that you will not need a wall or board to hang your poster. We produce double-sided and single-sided in different sizes.
Smart Roll Banner: It can be carried in its bag with its printed image without any problems. Its aluminum case is silver anodized and has three sizes as standard. Thanks to its telescopic tube, its height is min. 1000mm - max. It can be adjusted up to 2300mm.
Optima Roll Banner: It is a product type that helps you easily change your posters thanks to the clip-on lower and upper profiles. It has standard dimensions of 800 x 2000 mm and 1000 x 2000 mm. You can order the ready-made inner cassette system separately for fast poster replacement with the same product.
Eco Roll Banner: It is an easy-to-use product where you can attach your profile to a place and stretch it the way you want after attaching the top and bottom of your poster.
Cloth Banners: Regardless of your usage area, one of the most basic parts to draw attention and express your company is cloth banners. In line with your demands, we produce the brand and logo you want in a way that will look lively and of good quality.
Table Flags: Whether it is country flags or flags of your company, it is one of the indispensable products of organizations. We produce the best quality for you by us.
You can visit our website to get information about the products we have briefly mentioned and more, or you can get more detailed information by contacting us from our contact numbers.
https://www.secilbayrak.com/tr
Keywords: Fair Materials, Banner Products, Fair, Organization, Table Top Flags, Seçil Bayrak